Hostgator Karte der Ausfälle
Die folgende Ausfallkarte zeigt die letzten Standorte weltweit, an denen Hostgator-Benutzer ihre Probleme und Ausfälle gemeldet haben. Wenn Sie ein Problem mit Hostgator haben und Ihre Region nicht aufgeführt ist, stellen Sie sicher, senden Sie bitte unten einen Bericht.
Karte wird geladen, bitte warten...
Die obige Heatmap zeigt, wo die neuesten von Benutzern eingereichten und Social-Media-Berichte geografisch gruppiert sind. Die Dichte dieser Berichte wird durch die unten gezeigte Farbskala dargestellt.
Betroffene Hostgator-Nutzer: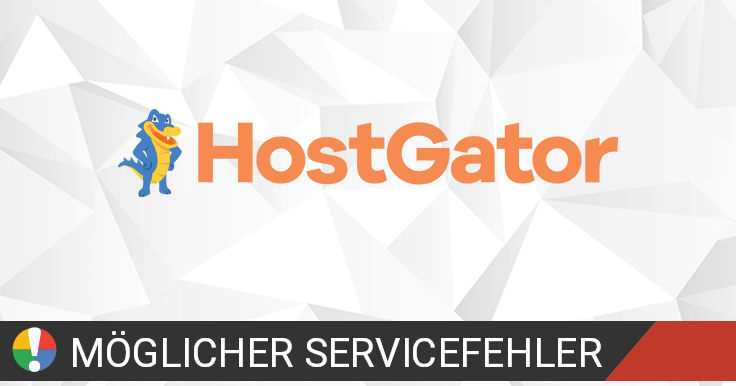 HostGator ist ein in Houston ansässiger Anbieter von geteilten, wiederverkauften und privaten Servern, und widmet sich Webhosting mit einem zusätzlichen Standort in Austin, Texas.
Sieh den aktuellen Status an
Am stärksten betroffene Standorte
Berichte von Ausfällen und Problemen in den letzten 15 Tagen, ausgehen von:
| Lage | Meldungen |
| --- | --- |
| Mexico City, CDMX | 3 |
| Guadalajara, JAL | 3 |
| Delhi, NCT | 3 |
| Veracruz, VER | 2 |
| Curitiba, PR | 2 |
| Pereira, Departamento de Risaralda | 2 |
| Noida, UP | 1 |
| Ribeirão Preto, SP | 1 |
| La Tronche, Auvergne-Rhône-Alpes | 1 |
| Rochester, NY | 1 |
| Cali, Departamento del Valle del Cauca | 1 |
| Chandler, AZ | 1 |
| São Paulo, SP | 1 |
| Guatemala City, Departamento de Guatemala | 1 |
| Riyadh, Minţaqat ar Riyāḑ | 1 |
| Morelia, MIC | 1 |
| Medellín, Departamento de Antioquia | 1 |
| León de los Aldama, GUA | 1 |
| Salvador, BA | 1 |
| Managua, Departamento de Managua | 1 |
| Maringá, PR | 1 |
| Boardman, OR | 1 |
| São José dos Campos, SP | 1 |
| Zapopan, JAL | 1 |
| Thornhill, ON | 1 |
| Salamanca, GUA | 1 |
| Cancún, ROO | 1 |
| Moscow, Moskva | 1 |
| Torreón, COA | 1 |
| Soacha, Departamento de Cundinamarca | 1 |
Community-Diskussion
Tipps? Frustrationen? Teile es hier. Nützliche Kommentare enthalten eine Beschreibung des Problems, der Stadt und der Postleitzahl.
Hüten Sie sich vor "Support-Nummern" oder "Wiederherstellungs"-Konten, die unten möglicherweise veröffentlicht werden. Stellen Sie sicher, dass Sie diese Kommentare melden und ablehnen. Vermeiden Sie die Veröffentlichung Ihrer persönlichen Daten.
Hostgator Problemmeldungen
Letzte Ausfälle und Probleme die in sozialen Medien gemeldet wurden:
Jorgeluisp

(@Jorgelu59308666) berichtet

@HostGator El PEOR SERVICIO TÉCNICO, SE DEMORAN HASTA UNA SEMANA EN DAR SOLUCIÓN, NO RECOMIENDO COMPRAR EN @HostGator. TUVIMOS QUE COMPRAR OTRO VPS EN @GODADDY

ichetan

(@ichetan) berichtet

August 2021 - Can't connect to Hostgator SSH Terminal. Network Error. Connection Timed Out 😟 @HostGator One or the Other thing is down. Not getting seamless access.

Brian

(@besanchez1981) berichtet

@HostGator Your servers have been down all afternoon. Calling your support team is a waste of time, no one can give you an answer, some operators hardly speak any English, this is unacceptable!!!!

BU$Y B

(@TheRealBusyB) berichtet

@HostGator has the worst support team I have ever had to deal with. I have been waiting for a refund for over a month and keep getting the runaround from every support person and admin. Anyone know the cost to transfer a website to another hosting service?

Kod_ange

(@Kod_ange1) berichtet

@HGSupport This is what I have been doing from the time I was a customer and now with my refund it is the same thing again. I was exchanging DMs with the support team but no-one is responding anymore.

قلب الاسد

(@Rich_2afa_Alasd) berichtet

@JoeYerdon I Said it before and I'll say it again. WPEngine or Kinsta. The former has stellar customer service and servers in the US (unlike hostgator with their retrograde customer service and tech support out of India) Wpengine has a dedicated security engineering team

Donnell Ann Bell

(@DonnellAnnBell) berichtet

@HGSupport I am receiving an database error message and it appears that Hostgator is having issues on a larger scale than mine? Can you verify? Thanks.

Onério Neto 🇧🇷🇦🇷

(@onerioneto) berichtet

@locaweb Olha, eu nunca vi uma empresa tão meia boca, que consegue prestar um serviço tão ruim. Além do mais o suporte está ANOS LUZ de outros hosts como Hostgator. NUCA mais quero trabalhar com vocês faço questão de pedir a todos os meus clientes migrarem para outras empresas.

Omelei M Vincent

(@omeleivincent) berichtet

@HostGator I cant access my account. I input my email and password to be brought back to sign in slot. Whats going on?

Mauricio Muñoz

(@MauricioMunozM) berichtet

@FranciscoFlora3 @HostGator A mi me pasa lo mismo, estoy en mi segunda renovación y siempre es lo mismo, me sale un error, si no logro pagar hoy me cambio de hosting

HostGator Support

(@HGSupport) berichtet

@shaunoconnor1 @HostGator @shaunoconnor1 It seems common , since when its working we don't think about it! Still, in regarding this issue, it has been escalated. We can speak via DM for any specifics. -Darren.

Spooky Boo's Scary Story Time

(@spookyboorhodes) berichtet

@hostgator I have a friend trying to signup but the signup page isn't working from either the mobile network or broadband. Once the cc info is entered it sends an error message to contact you via chat but that didn't help. Thanks

Mur, Magnificent Fury

(@mightymur) berichtet

When I've been ... not that smart... I will fully admit to customer service that I know I'm the problem here. So thank you @HostGator for your kind and excellent customer service!

Giancarlo Silva 🐙🏴🚩

(@giancarlozero) berichtet

O Hostgator é um provedor até bacana na qualidade do serviço. Mas o suporte deles é bem fraco, né? Eles se blindaram de tal maneira que fica difícil pra cacete solicitar suporte técnico ou financeiro pra problemas específicos.

aline ᴺᴹ

(@oniknowles) berichtet

@theprincemaxon Oiii amg, eu sei o básico do básico, uso a hostgator pra ter domínio verificado nas contas de anúncios do face e pra criar páginas de camuflagem nos anúncios. No que você precisa de ajuda?
Sieh den aktuellen Status an